filmdetective
Interstellar Explorer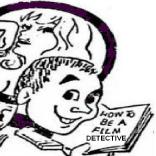 Joined: 16 Mar 2020
Posts: 99

Posted: Thu May 21, 2020 3:31 am

Post subject: Will Have to Review

---

I will have to re-view the episodes of SF Theatre that I have on VHS, recorded over the air from a UHF TV station from Charleston, SC, in the 1980s, make a list of which ones that I have, and give my comments on the ones I have that may be listed on this thread, and the ones that I have that are not listed on this thread.

Back in the Summer of 1969 (remember Bryan what was his last name, described as a "baby John Cougar" well, I think it was Bryan Adams, and his song, The Summer of 1969,the video version, which includes footage of It the Terror from Beyond Space, being shown on a Drive in Movie screen?

Well, in the Summer of 69, TV station WWAY ("we're your Way), went off the air, due to a firein their studio and when they got back onto the air, SF Theatre was one of their mainstay shows.

WWAY seems to have been an ill fated TV station, because a little over a decade after their disappearnace from the airwaves due to the fire, they again were off the air, in the early 1980s when an airplane collided with their TV Transmitting tower.

Does anybody here on this message boad remember either or both of those 2 episodes?

I don't think this post should be on the Off Topic forum, and if it wasn't for the Special thread on SF Theatre, I probably would not have remembered those two disasters tht WWAY-TV Suffered.