ralfy
Quantum Engineer




Joined: 23 Sep 2014
Posts: 390

Posted: Thu Apr 28, 2022 9:32 pm

Post subject: The Quatermass Experiment (1953)

---

"Quatermass: The sci-fi series that terrified a generation"

https://www.bbc.com/culture/article/20220427-quatermass-the-terrifying-sci-fi-that-changed-tv-forever



Quote:
With the centenary of his birth, screenwriter Nigel Kneale is being celebrated for his varied work – including his landmark 1950s dramas about an alien-infested UK, writes Adam Scovell.

...

Across six episodes, broadcast throughout the summer of 1953, The Quatermass Experiment, starring Reginald Tate as the professor, gripped the nation with the tale of an astronaut bringing something aggressively alien back to Earth. Today, only two episodes of the original serial are still viewable, since the show, as with other TV dramas back then, was performed and broadcast live, with the other episodes not recorded. It was followed by Quatermass II, broadcast in 1955, while the initial trilogy concluded in 1958 with the astonishing Quatermass and the Pit – both of these thankfully are still in existence in the BBC archives.
Bud Brewster
Galactic Fleet Admiral (site admin)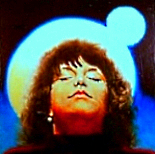 Joined: 14 Dec 2013
Posts: 14839
Location: North Carolina
Posted: Fri Apr 29, 2022 11:15 am

Post subject:

---

________________________________

Thanks, Ralfy! I was surprised that we didn't have a thread for this legendary program.

Here's two YouTube links which offer the six-part broadcast, the first of which has them all edited together into a single 1:21:42 video.

The second one has each of the six parts separately. The picture quality (which is about the best we can expect from a 1953 TV broadcast) is the same in both versions.



__

Quatermass Experiment - 1952 1+2+3+4+5+6





__________






__________






__________


_________________


____________




Is there no man on Earth who has the wisdom and innocence of a child?


~

The Space Children (1958)