Please sing along with me

_________
Rocket Rangers March
__________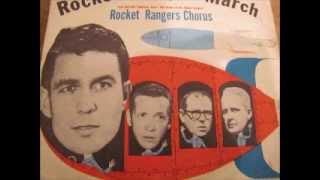 Clipped from Wikipedia:


Rod Brown of the Rocket Rangers

was a 30-minute, weekly CBS-TV network outer space adventure series, broadcast live Saturdays from April 18, 1953 to May 29, 1954.

Set in 2153, the series depicted the adventures of fearless Rocket Rangers, who operated from Omega Base, piloting their nuclear-powered space ship Beta throughout the solar system, to battle crime and the weird menace of extraterrestrial life-forms. The three Rangers were curly-haired Rod Brown (Cliff Robertson), his prickly partner Frank Boyd (Bruce Hall), and chubby, bespectacled comic relief Wilbur "Wormsey" Wormser (Jack Weston). Their immediate superior was Commander Swift (John Boruff). Each episode was a self-contained story, as opposed to the other serialized space shows then appearing on TV.
_________________
"Have you never wondered what it would be like to walk between the ticks and tocks of Time?"